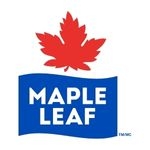 Website Maple Leaf Foods
A Sustainable, Forward Thinking Protein Company
Maple Leaf Foods is a leading meat and plant-based protein company, employing over 11,500 people and publicly traded on the Toronto Stock Exchange. We are proud of our roots, which trace back well over 100 years, but our vision and purpose are decidedly forward looking. As we pursue our vision to become the most sustainable protein company on earth, we are committed to creating shared value – creative business value through addressing some of the world's most critical social and environmental challenges. Our goal is to build a more sustainable food system, which provides nutritious affordable food, operates within planetary limits, cares for animals responsibly, and meaningfully engages with our communities to advance a more just society. We are advancing bold changes within Maple Leaf and more broadly within society to pursue our vision. We deeply believe this is the sustainable path to growth
Our job is to make great food
Maple Leaf Foods embraces a strong values-based culture, where our people are deeply engaged in work that is purposeful, fast-paced and challenging.We cultivate an open, non-bureaucratic and inclusive workplace that fosters safety and transparency, along with individual leadership and accountability. Each Maple Leaf team member has a voice and plays an active role in helping all of us achieve our goals with passion and discipline. We support one another to grow professionally, to learn new skills and to take on challenging experiences in the spirit of continuous improvement
Raise the Good in Food
We have united behind a shared purpose – to Raise the Good in Food. This spans a dramatic transformation of our flagship Maple Leaf brand, replacing anything artificial with simple, natural ingredients; investments and process changes to reduce our environmental footprint by 50% by 2025; building a diverse and inclusive culture where all talent thrives; becoming a leader in animal care; and advancing food security through our charitable foundation, the Maple Leaf Centre for Action on Food Security.
Our Leadership Values
Eight core values guide us in everything that we do.
Do What's Right
Shared Value
High Performance
Diverse and Inclusive Teams
Disciplined Decision Making
Our Accountability
Intense Curiosity
Transparency and Humility
The Opportunity
Reporting to the Chief Engineer, the incumbent will operate the engineering systems in a safe and efficient manner and in compliance with applicable acts, codes, regulations, and standards. Engineering systems to be operated include wastewater (potable, sanitary, storm, etc.), compressed air, and steam and ammonia (NH3) refrigeration, boilers and compressors.
A snapshot of some of the exciting things you will lead and do:
Maintain, monitor, test and log all steam generating requirements by operation code
Completes routine inspections of the ammonia-refrigeration, boilers and compressors and ensures that all systems are operating in a safe and expected manner
Maintenance & operation of all utilities related equipment & processes which includes the steam plant & system to end use, HVAC, compressed air, water systems, natural gas, refrigeration, scrubber
Carry out work requests and apply corrective measures in a timely manner utilizing computerized maintenance systems, including SAP. Input notifications as required on off shifts for work being done
Follow all Health & Safety, Food Safety, HACCP, WHMIS and MSDS policies and procedures, as well as applicable Standard Operating Procedures
Participate in machinery rebuilds, installations and repairs
What you will bring:
4th Class Power Engineer certificate, registered with ABSA, is required
3-5 years of experience as a 4th Class Power Engineer in a unionized, manufacturing environment preferred
Experience with both steam & refrigeration experience is required
Experience in a food processing environment
Experience in ammonia systems is an asset
Experience with wastewater systems is an asset
Must be able to work on preventative maintenance systems
Maple Leaf Foods is committed to ensuring the health and safety of all our employees. As part of this commitment, we have adopted a number of COVID-19 safety measures, including a requirement for all employees to be fully vaccinated by March 31, 2022 and to show proof of vaccination. In keeping with this policy, successful candidates will need to provide proof of vaccination by March 31, 2022 (or prior to their first day of work if the start date is after March 31, 2022). We will of course consider accommodations for anyone unable to be vaccinated following human rights and other applicable laws
We thank all applicants for their interest in exploring employment opportunities with Maple Leaf Foods; however, only those selected for an interview will be contacted. Applicants may be subject to a background check and must meet the security criteria designated for the position.
Championing diversity and inclusion is a critical component to advancing our collective purpose and vision, living the Maple Leaf Leadership Values, and delivering winning results. Accommodation is available upon request for applicants with disabilities in the recruitment and assessment process and when hired; please contact our Talent Attraction Team at accommodations@mapleleaf.com.