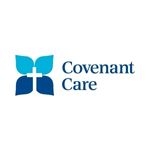 Website Covenant Care
Full Job Description
About the Organization:
Is contributing to a mission driven organization important to you? Do you prefer to be a part of an organization that takes its mission as the basis for all decision making? The mission of Covenant Care and Covenant Living is to "continue the healing ministry of Jesus by serving with compassion, upholding the sacredness of life in all stages, and caring for the whole person – body, mind and soul."
In fulfillment of this mission, Covenant Care and Covenant Living actively participate in advancing the Covenant Strategic Plan that aspires to:
Serve – we will strengthen our mission and live our values to meet the needs of those we serve through excellence in care, an engaged team, and wise use of our resources;
Transform and Grow – We will transform the health system and grow through integration, innovation, and shared learnings to respond to the strengths and needs of our communities, especially those most vulnerable;
And Contribute – we will leverage our legacy to maximize the strategic contribution of Catholic health care.
Covenant Care is an organization that takes its mission to the heart of everything it does.
We believe that this is what makes our organization stand out in our approach. Our Employees are the key to how our residents feel about their home… you have the ability to be a part of influencing the lives of all those that reside in our environments and create a caring and compassionate environment.
Position Summary:
Covenant Care welcomes all who share a calling to serve those most in need.
We are called to continue the healing ministry of Jesus by serving with compassion, upholding the sacredness of life in all stages, and caring for the whole person- body, mind and soul.
The position of Maintenance Worker will commit to incorporate our mission, vision, and our values, which are Compassion, Collaboration, Respect, Social Justice, Integrity and Stewardship, and uphold our ethical traditions as foundational aspects in all actions and decision-making.
At Covenant Care, we believe that our residents deserve exceptional customer service and a compassionate team of employees who will support them to thrive and live their lives to their fullest potential.
The right candidate would exercise good judgement and precedent in determining work and maintenance methods used in accordance with the care team, regulations, procedures and Covenant Care's Mission, Vision and Values. Our mission is to "continue the healing ministry of Jesus by serving with compassion, upholding the sacredness of like in all stages and caring for the whole person – body, mind and soul." In fulfillment of this mission, Covenant Living actively participates in advancing the Covenant Strategic Plan which aspires to: Serve, Grow, Transform and Contribute.
Qualifications:
Covenant Care is currently seeking a reliable jack of all trades full time maintenance worker for our St. Marguerite Manor site in Calgary, Alberta.
We are looking for the right person to manage the day-to-day maintenance needs that come up in the site. The successful candidate must be personable, motivated, competent and solution focused.
Reporting to the Facilities and Maintenance Manager, the full-time maintenance worker performs duties such as:
operating the building and the general preventative maintenance of the building to provide a comfortable and safe environment to the residents.
Performs minor renovations and repair work like: minor drywall, painting, minor plumbing, and minor electrical work.
Maintenance records keeping through an online based app. Minor grounds keeping might be necessary at times.
Your workday might involve heavy lifting (~35 lbs.), cleaning and reaching. Moderate to frequent amount of time spent lifting, walking, performing repetitive motions, standing in one place, kneeling, pushing/pulling and bending. Other physical exertion associated with trades work can be expected.
Your daily activities could include:
Performing water temperature checks.
Maintenance of HVAC and water heating equipment (boilers, air handling units, mixing valves, softeners, etc.)
Drywall repairs, patching and painting, Minor plumbing, and Minor electrical.
In charge of minor renovation and up keeping projects throughout the year.
You will need to be a person in our organization who is collaborative and thrives in cultivating and maintaining effective working relationships. You will have a maintenance background; a class 5 building operator or boiler ticket is required. Previous work experience in a senior's care facility is highly desired.
This position would be suitable for a person with a maintenance background or someone looking for permanent full-time work that has a trades background.
Formal Education:
5th Class Power Engineering certification is required. Must maintain an Alberta Boiler Safety Association 5th Class power engineer's certification or obtain one within the first 6 months of employment.
Journeyman certificate in a related trade would be an asset, but not required. A trades background is highly desired.
PLEASE NOTE:
Covenant Care offers a very competitive compensation and benefits package.
All employees new to Covenant Care must provide a criminal record check not older than 90 days ahead of your commencement date. Criminal Record Check/Vulnerable Person Screening processing is taking much longer than typical (3 to 4 weeks) and that commencing the process in advance is advisable. Not having your CRC will delay your ability to commence employment. Covenant Care is committed to an inclusive work environment and encourages all qualified individuals to apply. We thank you in advance for applying with Covenant Care.
Only those candidates selected for an interview will be contacted.