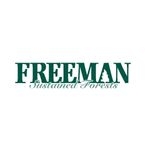 Website Harry Freeman & Son Ltd.
Full Job Description
Harry Freeman & Son Limited is a family owned and operated sawmill in Greenfield, NS and have been in operation since 1830. Freeman Lumber is ISO 9001 certified and demonstrates their intense focus on product quality and workplace safety. Although much has changed in 175 years, the Freeman family is still committed to producing quality lumber products.
MAJOR DUTIES AND RESPONSIBILITIES
Operate and monitor the 2 boilers and 14 kilns on site.
Arrives on time, prepared to work every day.
Follow preventative maintenance schedule, plus perform any extra servicing.
Reports to Chief Engineer, and follows up with any issue that will disrupt production.
Reports any incidents, accidents, hazards, near misses or injuries to direct supervisor.
Works safe on a daily basis (follows lock-out procedures, recognizing unsafe areas, safe proper mixing of boiler chemicals).
Shows interest in learning all aspects of the job.
Complete daily required paperwork.
Communicate with operator supplying fuel to maintain enough fuel and good quality mixture for efficient burning.
Shares production goals of having the lowest idle time on the kilns as possible.
Perform maintenance work needed as per level of skills.
Shows initiative to help others whenever possible, and supports co-workers
Job Type: Full-time
Salary: From $32.50 per hour
Benefits:
Dental care
Extended health care
RRSP match
Vision care
Schedule:
12 hour shift
Day shift
Night shift
Ability to commute/relocate:
Greenfield, NS: reliably commute or plan to relocate before starting work (required)
Work Location: One location
Expected start date: 2023-02-15